The week before Easter, we went on our well-deserved spring holiday, which was all about cycling. It started with a visit to the museum of the Tour of Flanders (Centrum Ronde van Vlaanderen) in Oudenaarde, and during the days that followed, we spent a lot of time in the saddle as well. As in the year before, Paris-Roubaix was the uncontested highlight of our holiday, though!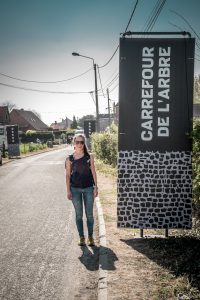 In 2016, it was more or less by chance that we ended up going to Carrefour de l'Arbre to watch the race – the main reason was that this section of pavé wasn't too far from the place at the Belgian coast where we were staying. This year, there was no question that we wanted to go there again, since Carrefour de l'Arbre, with a level of difficulty of 5, is not only one of the most challenging cobbled sectors, but often decisive, too, as it is quite close to the finish line.
If you walk or ride your bike on the cobblestones yourself, you get an impression of just how incredible the performance of the riders on the 257 km route is: On the uneven ground with the deep potholes, you need to be careful where you step or go in order not to trip or fall. The pros make it look like it isn't much different from an asphalt road, though.
We were of course not the only people who decided to watch the race at Carrefour de l'Arbre. But even though the weather was great and I think the crowd was therefore even bigger than in the year before, you could easily find a spot in the front row. There were barriers only in very few places, so there literally wasn't much between you and the action.
When the riders went by, the three who later stood on the podium were already in front: Greg Van Avermaet (BMC), Zdenek Stybar (Quick-Step Floors) and Sebastian Langeveld (Cannondale-Drapac). And within just a short period of time, many other big names followed. Since the peloton had split up into many smaller groups at this point in the race, you could recognize many riders and even try and read some of their faces despite the comparatively high speed. It's definitely an amazing experience to watch the race action from up close.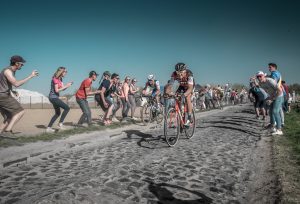 We learned how the race ended by listening to another spectator's radio. Many had taken radios or TVs with them to follow the race before and after Carrefour de l'Arbre as well. When all the riders had gone by and the spectators were starting to leave their spots along the route, knots of people gathered around radios and TVs, and everybody was caught up in the excitement. The atmosphere at Paris-Roubaix is unique anyway – a bit like at a football match, only better, because the whole crowd simply celebrates the athletes and nobody is there to look for trouble.