If someone had told me last year it would be hard for me not to use my turbo trainer every day, I would have thought they were crazy. I've had Zwift for three months now, though, and it has completely changed the way I think about indoor training.
Before I had heard of Zwift, I actually wouldn't even have thought about buying an indoor trainer, as I couldn't imagine that I would enjoy cycling while staring at the wall. Although I knew that indoor training was helpful and made sense, especially in winter, I preferred to go for a run or a walk outside instead.
The online platform Zwift makes indoor training anything but boring, however, since you link your trainer up to your computer and can cycle in a virtual world. The more watts you put out, the faster your avatar cycles through Watopia, London or Richmond. All you need is a smart trainer or a classic trainer plus speed sensor, which are connected to Zwift with an ANT+ adapter. Cadence and heart rate sensors are also useful, but not necessary for Zwift to work.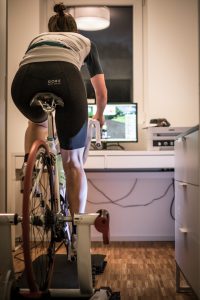 Once you have paired your devices, you can immediately start Zwifting. You can either just ride on one of the 17 routes or do a workout. There are ready-made workouts and programmes, but you can also create your own workouts. If you want to do one of the ready-made ones, you should know your FTP (Functional Threshold Power, i.e. the maximum power you can maintain for one hour) and adjust it on Zwift, so that the workouts are tailored to your fitness level. If you don't know your FTP, you can determine it by doing an FTP test on Zwift. And if you don't want to train by yourself, you can also arrange to train with real-life friends or participate in one of the group rides which are offered for all fitness levels. Moreover, races are organized on Zwift on a regular basis.
As you can see in the picture, your current power, cadence and heart rate are displayed in the top left corner. If you're just riding around, you can show what you've got and see how you compare to others by trying to win the sprint or King of the Mountain jerseys, like I am doing at Box Hill in the photo. If you do a workout, Zwift always shows you what to do next (e.g. 200 watts for 3 minutes), which intervals you have completed and which ones you still need to do.
After a one-week test period, Zwift costs $ 10 a month. Without doubt, these $ 10 have been worth it for me. I enjoy the workouts a lot in particular. When I was still a member of the athletics club, I always had a coach who created my training plans. He knew me so well that the workouts were always hard enough to make me better, but still doable. I'm not saying that Zwift is a substitute for a coach, but if you check your FTP regularly, you can at least be sure that the workouts will be tough, but doable, and help you become stronger. After this winter, I'm definitely much fitter than after the one before, and I can of course also see that when cycling outdoors now.
What do you think about Zwift? Are you addicted to it, too?