A topic that can be very frustrating. During my first ride with my road bike, my butt suffered a lot. And that didn't change during the second, third…, twentieth ride, either. In the beginning, I thought my body just needed to deal with it and I shouldn't be such a baby. But one day, I realized I simply had the wrong saddle and started looking for the right one.
The first saddle I bought because I thought it was the right one was the Selle Italia SLS Max Flow. It has a cut-out in the centre and is comparatively soft, which is why I thought it was ideal for a cyclist like me – a cyclist whose bottom hadn't had much time to get used to longer rides yet. Sitting on it in the shop, it felt pretty good, and the first rides proved it was in fact an improvement compared to my old one. I was still in pain every time I rode my bike, though, but I told myself I just needed to get used to the saddle.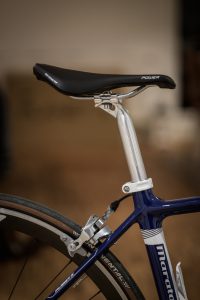 After a cycling holiday in Belgium a few months later, I was so fed up that I decided to look for a new saddle again. I did a lot of research online and came across the Specialized Power Comp, which has a larger cut-out than the Selle Italia SLS Max Flow and is much firmer. By then, I assumed that precisely the fact that the Selle Italia was so soft was causing my problems. Because it is so soft, the padding was compressed and the cut-out closed once I sat on it, and the saddle applied pressure to body parts that don't handle pressure well.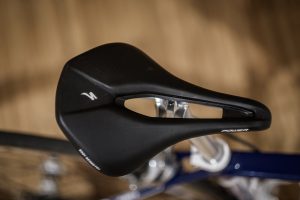 I looked at the Specialized Power Comp at a Specialized Concept Store in Cologne, Breuer's Bikebahnhof. Since the saddle is available in different widths, my sit bone width was measured and I could test ride it. I've had the Specialized Power Comp for more than a year now and I'm still more than happy with it. I haven't been in pain any more and can cycle several days in a row now – a huge difference! In my case, less padding was definitely more and has helped me to enjoy cycling a lot more, too.
Everybody and every body is different, though, so if you have similar problems, I'd recommend not putting up with them, but asking a retailer for help and trying different saddles. You'll probably only find out if a saddle is perfect for you after a few longer rides, but you can at least have your measurements taken in the shop and tell if a saddle is getting close to what you're looking for after a short test ride.