Is cycling an individual or a team sport? Looking at race results, the answer to this question would be that it's an individual sport – except for team time trials. As everyone knows, though, even the best riders don't stand a chance without their team.
A good thing about cycling as a hobby is that you can easily practise it by yourself. You don't necessarily need to know people with the same interest or stick to training schedules, as is the case with classic team sports. Even if you aren't a pro, it is helpful not to have to prepare for a race by yourself or stand at the start line by yourself, however. When you train together with someone else, you might push yourself a little bit harder, time flies and you can talk about anything and everything. Even if you don't train together all the time, you benefit from having the same goal: That way, you can still motivate each other, discuss your training and give each other tips. And if you participate in a race with someone else, you can help each other to become less nervous, take turns riding in each other's slipstream during the race, cheer each other on and really push yourselves to the limit.
One of my favourite training and race partners is my sister Marion. Since we were little, we've always had the same hobbies: athletics, gymnastics, dancing, horseback riding and playing the trumpet. I would be lying if I said I was always thrilled that my little sister did everything I did and was often as good at it as I was or even better. When we were teenagers, I recognized the advantages of having someone with the same interests at my side, though. We've spent many, many hours on the track or in the forest together to prepare for running competitions and then competed together, too. For almost two years, we've been cycling together as often as possible.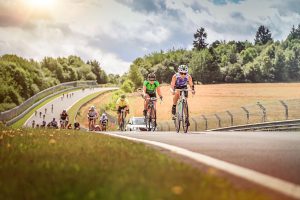 The first race we both entered was Rad am Ring in 2016. We had decided on the 75 km, so we completed three laps around the legendary Nürburgring with an elevation gain of about 1,700 m and a maximum gradient of 17% and stayed together from the first to the last metre. The course is great, both because of the many climbs and because of the surface, which is of course excellent. On the Nürburgring, there's definitely no need to worry about potholes. Many climbs also mean that you will really need to push yourself and also pace yourself well. During the second and third lap in particular, when my legs were already a little tired, I was extremely grateful that I wasn't out there by myself. Together, we managed to ride steadily: The third lap wasn't even four minutes slower than the first one. If I'd been on my own, I'm sure I'd have made it to the finish line, too, but I'd probably have slowed down a lot more during the last lap. If you ride with other people, you might be able to push yourself just a little bit harder so that the other people's results won't suffer. After the positive experience last year, we'll of course enter the race again in 2017!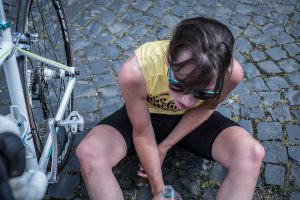 Another great competition we participated in together last year was a duathlon in Stolberg close to Aachen. We took part as a relay team, so teamwork was built in. Marion ran while I cycled. She first had to run 5.3 km, then I had to cycle 22.4 km and she had to run 2.3 km again afterwards. The course in Stolberg is really nice and especially the rather long climb you needed to go up three times in total really suited me. Although we weren't running or cycling at the same time and couldn't push each other, it was motivating for me to know that I was going all out for the team. As the only ladies team, we managed to come fourth out of eleven teams.
Although cycling is – in theory – an individual sport, the best results are often achieved if you work together with someone else. On top of that, you can analyse a training session or a race together immediately afterwards or reminisce about it years later, making the whole experience even more fun 🙂
Photos Rad am Ring: © Sportograf