On 11 June 2017, I'm going to take part in Rund um Köln, a 68-kilometre road bike race in Cologne, on 29 July 2017 I'm going to enter Rad am Ring, a 75-kilometre road bike race around the famous Nürburgring race track. If you have also signed up for one of these races or a similar event for the first time, you might be asking yourselves how to prepare for them. There certainly isn't a one-size-fits-all approach to the right preparation – which kind of preparation makes sense always depends on your current fitness level and what you're aiming at. Do you just want to reach the finish line, finish as one of the first riders or something in between? I can tell you what I do to get ready for Rund um Köln and Rad am Ring, though, so it might give you an idea of what you could do to prepare yourselves.
Since I participated in races for the first time last year, I decided on shorter distances again this year: 68 kilometres at Rund um Köln and 75 kilometres at Rad am Ring. Although these two races differ with regard to the elevation gain (about 550 metres at Rund um Köln compared to about 1,700 metres at Rad am Ring), they are about the same distance and can be completed without excessive training. Last year, I only rode my road bike or mountain bike once or twice a week and did some core strength training once or twice a week and reached the finish lines without a problem.
Last winter in particular, I exercised a lot more than the winter before and now in spring, I've been exercising more than last year, too. My training usually looks like this: an 80-kilometre road bike ride once a week, a 25-kilometre mountain bike ride once a week, a 1-hour interval workout on a turbo trainer once a week and strength training for my whole body three times a week. It doesn't mean that this is a set workout plan that I slavishly follow all the time, though. I always decide what fits into my other plans and also see what the weather is like. Fortunately, I never have to force myself to exercise. It's harder for me not to exercise, so sometimes I don't have a real rest day for a week, but some other weeks when I have a lot of appointments, I might have two or three.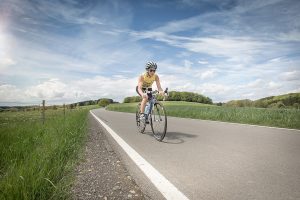 No matter if I ride my road bike or my mountain bike: the hillier the route, the better (I think). I still prefer going uphill to anything else and always choose routes that contain as many climbs as possible. For a bit more than half a year, I've been living in the Bergisches Land region, a hilly region close to Cologne, and have the greatest routes and ascents right on my doorstep. If you want to take part in a race with a hilly route, it's of course an advantage if you train on routes that contain a few climbs, too: That way, you feel both physically and mentally prepared for ascents, you know when and how to change gears and – what's very important, too – you know if you have the right gear set-up for long and/or steep climbs. In this case, there's no one-size-fits-all solution, either: There isn't a gear set-up that's perfect for everyone. For example, I had a compact crank (50/34) and an 11-28 cassette at the beginning and managed to go up all ascents with it, but on longer rides with a lot of elevation gain, I always started to suffer at some point. Therefore, I now have an 11-32 cassette. This way, I can keep a higher cadence when I climb steep hills, which is much better for me.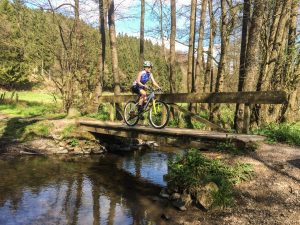 Riding my road bike or mountain bike in hilly areas, I don't only realize that my endurance and power are improving, but also my cycling skills and technique. Things that I consciously needed to think about at the beginning just seem to happen automatically now. During my first rides, I even needed to think about really basic things such as: Which foot should I keep down through a corner? Which one is the front and which one is the back brake? Which shifter do I use for moving the chain on another chain ring in the front and which one for moving it on another cog in the back? I really was a complete beginner. The more often you go cycling, the faster you don't need to think about these kinds of things any more and the more confident you feel, though. On top of that, I worked on a more aerodynamic position on my road bike in particular. With a more aerodynamic position, you don't only save a lot of energy and go a lot faster when you're descending or riding in strong headwinds. At the beginning, I always felt that I didn't have as much control over my bike when I was on the drops. The opposite actually holds true, though: When you are on the drops, it doesn't only give you a more stable position, but it's easier to control the brakes, too. That's why it's definitely worth it to work on gradually making your position more aerodynamic and getting used to riding on the drops.
In addition to road cycling and mountain biking outdoors, I usually complete a Zwift workout on my turbo trainer once a week (if you don't know Zwift yet, you can read my post from 24 April). I started doing that in winter because I could only ride outside at the weekend, but wanted to work out on weekdays, too. I've kept up this routine in spring because I realized how much even just one hour of interval training on the turbo trainer has increased my fitness, and it's a lot of fun to go hard without having to watch out for potholes, traffic lights or other people.
To complement my road bike and mountain bike training, I do strength training for my whole body. Until the beginning of this year, I only did bodyweight exercises (sit-ups, different kinds of planking, squats etc.). Since March, I've been working out at the gym as well. I never used to enjoy strength training as much as I enjoy endurance training, but since I had/have larger deficits in some areas, I see that I'm quickly making progress, which motivates me a lot now. You don't only benefit from building muscle when you cycle or practise other types of sports, but also in everyday life, especially if you spend as much time sitting at your desk as I do. In addition to building muscle, stretching is important, too: After a gait analysis last year, I was told that the entire right side of my body, from my neck down to my foot, was much tenser than the left side, which doesn't only make me move asymmetrically, but also waste a lot of energy. Since I have known that, I've been doing special stretching exercises I was recommended after the analysis, and I've been using my Blackroll more often as well.
All in all, I feel even fitter and more confident riding my bike this year than I did last year, and if nothing major goes wrong, I'll probably be faster at Rund um Köln and Rad am Ring than in 2016. To make that happen, I'll continue doing my best, but having fun will always be my top priority: Trying as hard as you can and seeing that you keep getting better can definitely be a lot of fun. If amateur athletes only suffer, chase results and the pastime becomes stressful instead of fun, they're doing something wrong, though (that's what I think anyway) 🙂