Yay, I finished Rad am Ring! It was awesome again, although I felt pretty awful most of the time while I was riding. Having rested for a few minutes after the race, euphoria took over, though, and I still feel fairly euphoric.
But I should start at the beginning: Until about two weeks before the race, I wasn't even sure if racing was such a good idea. I didn't want to make a big deal out of it, but my crash at the end of May had made me feel quite insecure. Although I'd started riding my bikes again about three weeks after and enjoyed it as long as I was going uphill, I went more slowly downhill than on flat roads and suddenly thought I was too stupid to brake properly even though I'd never had a problem with it when I was riding my road bike before.
Everything changed after a mountain bike skills training on 17 July (the best birthday present ever, Niels). It wasn't only because of the actual skills that I learned, but especially because I felt good riding my bike instead of thinking I couldn't handle it. It was as if someone had flipped a switch inside my head. It was also very helpful for me to ride two laps around the Nürburgring, where the race would take place, a week before the race. That way, I knew exactly what would await me the following weekend.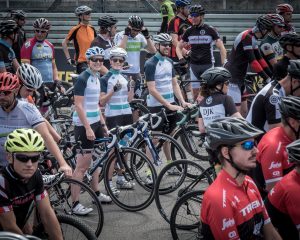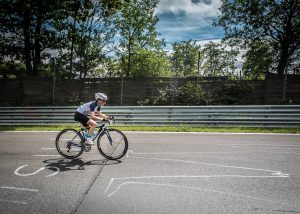 The night before the race, I still only slept three hours because I was so nervous, and I wasn't hungry at all, which is extremely unusual for me. I didn't feel great on the first and second lap at all, either. For some reason, I had a terrible backache, felt sick, suffered the whole time, and it still seemed as if I weren't getting anywhere. During the third lap, I felt so much better, though. By then, my legs were pretty tired, but it was probably the same for everyone, and to make up for it, I simply braked less on the downhill bits than on the first two laps 😉
After 75 km with an elevation gain of about 1,700 m, I reached the finish line and couldn't believe that I'd got there just under 2:50 h. That meant I was almost four minutes faster than last year, and I came 11th out of 79 women. Most importantly, though, I'd been able to give it my all, and I'd felt like crap because I was trying so hard and not because I was scared.
I'm already looking forward to the 2018 edition of Rad am Ring! The route is just perfect – it is tough, which I love, and the asphalt is of course perfect, too, and you don't need to worry about potholes, manhole covers or traffic islands, but can focus on yourself and the people around you.
By the way, I'd meant to smile at the cameras, but I was in the red the whole time, so it didn't work out. I couldn't even smile at the female spectator cheering me on and calling out "girl power" almost at the top of Hohe Acht, the longest and steepest climb of the race. It definitely motivated me to overtake a few more guys, though 😀
Photos 3-7: © Sportograf