(part 1 of probably 3 😉 )
Just like last year, Niels and I rented a camper van and went to the Alps again this summer. Lesson no. 1 after two weeks and eight different stopovers (one of those in the Black Forest and one in the Sauerland, a hilly region close to where I live) : Mountains are awesome. Lesson no. 2: Unfortunately, heaps of people think so. It's definitely not the smartest idea to go on holiday when all of Europe is on summer holiday, too. On the upside, though, the weather was perfect almost the entire time, and you can finally see some cycling tan lines on my skin.
Our first stop was near Walchensee and Tennsee, two lakes in Bavaria. From there, we went on a nice mountain bike ride which led us to Kranzbach and Schloss Elmau, among others. There are many well-signposted hiking trails in the area where you can ride your mountain bike as well. And it is entirely up to you how demanding your ride will be – you can either stay on the wide trails down in the valley or hit some singletracks and ascents. When it's warm, I would definitely recommend taking a dip in one of the beautiful lakes to cool down. We decided on Barmsee for our swim because you can quickly cycle or hike around the lake to find a nice spot.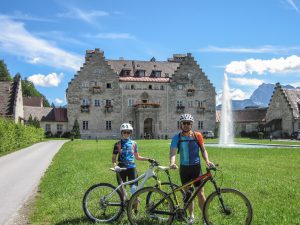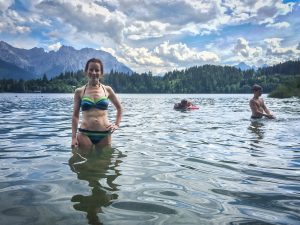 After Tennsee, we went to La Villa (Stern) in Alta Badia in the Dolomites. The main reason for us to go there was the well-known Sella Ronda, which we wanted to do by road bike. In July and August 2017, the Passo di Sella was closed for cars and motor bikes every Wednesday, which we didn't want to miss. When we saw how jammed the roads were, we didn't really feel like cycling there any more, though, even with the prospect of a road without cars. On Wednesday morning, we still headed off to Passo di Sella, but turned around after just a few kilometres because cycling isn't fun at all when there is so much traffic. At least it isn't if you don't want to die. Without doubt, the passes are beautiful, and I would love to go back to this part of the Dolomites for road cycling, but August is definitely the wrong month for it.
We then conquered a few mountains on foot instead of by bike. August is perfect for that 🙂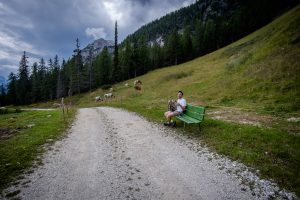 Our next stop was San Vigilio (St. Vigil) – also situated in the Dolomites, but much quieter in terms of traffic. Immediately after our arrival, we went up Passo de Furcia by road bike, then down on the other side, up again and down again. The street is pretty narrow with a few switchbacks, but there isn't much traffic at all, which makes it great for cycling. Uphill, the pass is right up my alley – on both sides, there are a couple of steeper sections with gradients of up to 15% followed by more gentle sections where you can recover a bit. Downhill, the pass was more difficult for me to manage. I'm not a fan of steep descents anyway, and in places, you cannot see much of what lies ahead, so that you need to brake quite a lot if you don't want to run the risk of crashing into someone behind the next corner. I still survived the descents OK – Niels's rear wheel didn't, however. Since we couldn't get a replacement anywhere close to San Vigilio, we had to cancel the long ride we had planned for the next day.
We really weren't lucky in the Dolomites when it came to road cycling, but we got extremely lucky when it came to mountain biking. San Vigilio is a mountain biker's paradise. There is everything from wide gravel roads through the valley and up the mountains to great singletracks, and many MTB routes for all skill levels are very well signposted. I enjoyed the singletracks along the road and hiking trails leading from San Vigilio to Pederü at the head of the valley the most. I think singletracks are a lot more interesting than wide hiking trails, but my skills aren't exactly the greatest and not good enough for difficult tracks and especially not for long descents. Going to Pederü, the tracks tend to slope gently uphill, going back to San Vigilio, they therefore slope gently downhill most of the time, so I used the opportunity to work on my skills and speed up a little every now and then.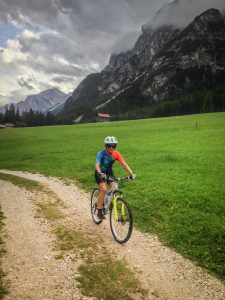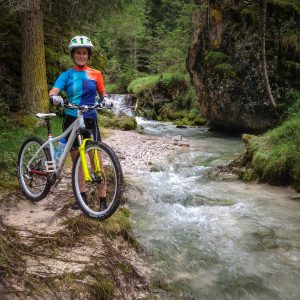 The first week of our holiday was over. We then went to Bolzano, where we bought a new wheel for Niels's road bike. Carrying the wheel the whole time, we strolled around the city (old town is magnificent), before we headed off to the Black Forest the next day to get some kilometres (especially vertical ones) in on our road bikes. More on this next time 🙂