(Part 2 of 3: "Germany, Austria and Italy by camper van, mountain bike and road bike")
When we arrived in Münstertal in the Black Forest, our legs only wanted one thing: road cycle! And the area is particularly great for road cycling – we already knew that much from last year when we'd also spent a few days here.
Thanks to Garmin, our equipment was a bit more professional than last year when we had to use Google Maps to compensate for our lack of local knowledge. For our first ride, we had planned a nice 80-kilometre route and downloaded it to our Garmin. It was meant to be a kind of warm-up ride. We wanted to go on a longer ride the day after.
The ride started out really well, too, with the climb from Münstertal up Schauinsland via Stohren. Last year, we'd approached the mountain rather naively. We hadn't had a clue how steep the road is which leads up the mountain from Münstertal. You can tell that it's freaking steep just from the fact that it smells of brakes and clutches everywhere (if the sign saying 18% isn't enough of a clue). Even cars suffer going up and down Schauinsland. In 2016, I had to stop twice going up and wasn't sure if I'd make it to the top at all. In 2017, it was still tough, but I felt that I could go a little bit faster at all times and didn't think about stopping at all.
From Schauinsland, we descended to Oberried and went up Rinken from there. Climbing Rinken from Oberried is fantastic – at least in August, when we were there. Most of the way, you ride through the forest on a small asphalt road, which is closed to cars, and you therefore get the impression of really being in nature for once while road cycling. This ascent is pretty steep as well, though, and an easy first gear will come in handy here, too 😉 Just before you get to the top, the asphalt turns into soil and gravel, but you can easily ride your road bike there when it's dry.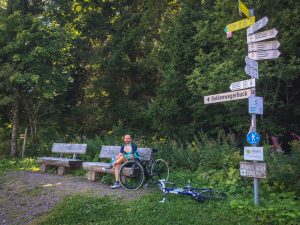 So far, our route had been perfect, but we saw that the next section we'd planned to cycle would lead us over rather coarse gravel. A local cyclist told us it was hardly possible to ride a road bike there and recommended that we go back the same way we'd come, unless we wanted to cycle on Bundesstraßen (main roads with a lot of traffic) or take a long detour. We thought simply going back the same way was too boring, so we went on to Hinterzarten next. I'm going to spare you the details of the rest of our ride because I wouldn't recommend taking the same route. Just let me tell you this much: After 10 kilometres on gravel roads, we ended up on exactly the same road we'd originally wanted to avoid and which took us back to Rinken. Therefore, we decided to go back the same way we'd come after all.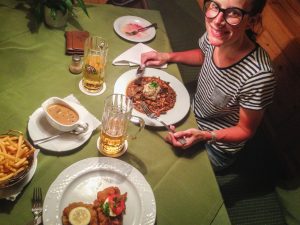 Stats of the day: almost 110 kilometres, 10 of those on gravel roads; almost 3000 vertical metres; thanks to 30°C, two stops to buy water and coke, and thanks to clear blue skies and sunshine, a pretty bad sunburn (as you can see in the picture). Although the ride didn't go according to plan, I absolutely loved it! The long gravel section turned the whole thing into a bit of an adventure, we covered more than 1000 vertical metres more than we'd ever climbed in one day, and our legs still felt good at the end. If that isn't motivating, I don't know what is 🙂
We still took it easy the next day and only went on a 55-kilometre ride from Münstertal to Wiedener Eck, among other places. Our legs were ready for the HochsauerlandChallenge now, a race we took part in a few days later.