When someone asked me a couple of months ago if I ever planned on taking part in a mountain bike race, my answer was a definite no. A couple of weeks ago, I thought it would actually be cool to enter a race next year, just to have a goal to prepare for. And not much later I thought, why wait so long? So I signed up for my first off-road race – Raiba Rad Cross, which took place in Hürth-Kendenich on 12 November.
Primarily, it is a typical cyclo-cross event, but they also offer a race for mountain bikes. To all of you who now think, "Cyclo-cross, what the hell?" – until last year, I had no idea what it was, either. Cross bikes are very similar to road bikes, but they have wider, knobby tires and a slightly different geometry. As the name suggests, the races take place mostly off-road. In contrast to many other races, they are held over a predetermined time and not a certain distance. Several laps of a short course, which is on average 2 km long, have to be completed. After the first lap or the first two laps, competitors are told how many laps they have to ride in total, based on the time it has so far taken the rider in the lead to complete the first (two) lap(s). Another important detail is that while completing their laps, cyclists need to overcome obstacles, which, depending on their skills, force them to dismount their bikes. These include stairs, straw bales or sandpits. Being able to dismount and remount your bike elegantly and above all fast is definitely a plus.
Photo: Christian Siedler
Photo: Christian Siedler
Photo: Christian Siedler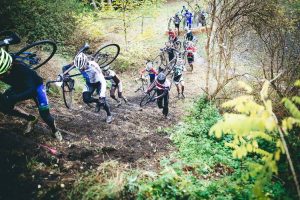 Photo: Christian Siedler
The race I'd signed up for was held according to the same rules as a cyclo-cross race, but with mountain bikes. The positive thing about that was that it wasn't as technical as a 'real' MTB race because my skills are still at a beginner's level, although I'm slowly making progress. The negative thing about it was that I had to carry my 12.7 kg bike over straw bales twice each lap, drag it through a sandpit once and lug it up the so-called "wall", which is steeper than the steepest stairs anyone who isn't out of their mind would ever build.
Having gotten only three hours of sleep because I'd been so nervous, I thought on race day, "Why are you always doing this to yourself?" But when the race finally started, I knew I'd made the right decision. I just love competitions of any kind. At the start, I'd deliberately positioned myself in the last row and even let everyone pass me on the first few metres because I thought I'd be the slowest on this part of the course. Now I know it was a stupid decision because during the first part of the first lap, I was stuck behind a group of men who were riding a lot more cautiously than I would have done. I overtook them as soon as I got the chance. The other three women who'd been at the start line with me were long gone by then, and I accepted that I'd come fourth. I wouldn't have minded coming fourth, either, as I'd already achieved my main goals of entering the race in the first place and increasing the percentage of female participants.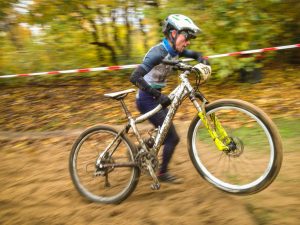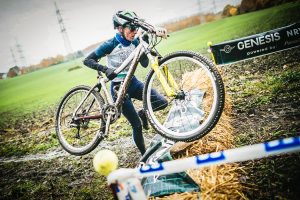 Photo: Christian Siedler
Photo: Christian Siedler
At the end of the second of four laps, Niels told me I'd gained a lot of ground on the woman in third place, though, and sometime during the third lap, I actually saw her in front of me. Until the beginning of the fourth lap, I stayed right behind her and then managed to pass her and open up a gap. However, due to all the mud that was stuck all over my bike and my shoes, I hadn't been able to change gears nor clip into my right pedal since the beginning of the fourth lap. When I thought I'd secured third place, I didn't go full gas any more and went a bit more slowly around corners, which were in part very muddy and therefore slippery. Just before the end of the last lap, the woman who I thought I'd shaken off was right behind me again, though. Crap, I'd have to sprint to the finish line! Luckily, I was stuck on the biggest chainring, and with only my left shoe clipped in, I delivered a little wattage bazooka and secured third place after all. So always remember to never give up and to never feel too safe, either! 😀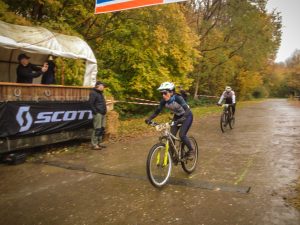 Photo: Christian Siedler
And because it was so much fun sliding through the mud, I'm going to take part in another off-road race next month – I still have to decide whether I'm going to ride my mountain bike or my cyclo-cross bike, though.
Thank you to Christian Siedler for the great pics: www.christiansiedler.de