Although it's already been six weeks since BIKE Festival Willingen took place, I really wanted to write about it. I had such a great time there – above all because I participated in the Rocky Mountain BIKE Marathon, something completely new to me that I'd wanted to do for a while. It also scared me a bit, though, because I didn't really know what to expect.
In winter and spring, I'd spent a lot more time riding off-road than riding on roads, and at some point I really felt like doing a mountain bike marathon and thought if I didn't take part in one soon, I might never do it. I tend to doubt my skills a lot, and I definitely can't say they're particularly good, but I'm getting better all the time and feeling safer all the time too. And one day when I thought I was actually not a hopeless case when it came to mountain biking, I signed up for the Rocky Mountain BIKE Marathon in Willingen. Even though you can decide during the race what distance you want to ride (53 km, 88 km or 116 km), I'd decided from the start that I wasn't going to ride more than the short distance. After all, this was going to be the very first time for me to take part in such a race.
Right until the day before the race I was really looking forward to it, simply regarding it as a long training ride with many other people. I wasn't nervous at all. But standing next to the other riders in my starting wave on 19 May at 7.30 a.m., I felt so out of place. Everybody around me looked so fit, and I didn't want to make a fool of myself. Riding the first few kilometres of the race, I was still super nervous. It didn't all begin well, either, because someone passed me on the first long climb up to Hoher Eimberg and then stopped right in front of me. As the trail was pretty jammed with people and we were only moving at a crawl, I had to come to a stop too, and because I was so nervous, it took me three attempts to get rolling again, even though starting on hills is actually something I'd say I'm good at.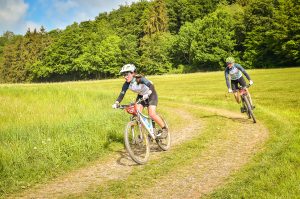 On the first descent, gaps were starting to open up quickly. Unfortunately, the rider in front of me dismounted at some point and pushed his bike down the descent. I think dismounting is not a problem at all – everyone should ride in a way that they feel comfortable –, and the rider didn't get in my way, either, but seeing him dismount didn't exactly boost my confidence. I instantly thought, "If he thinks he can't ride this, it is definitely too difficult for me." So I dismounted and walked my bike too even though I saw that I could have kept riding it. The only thing that made me feel a little less bad was the fact that at least half of the other people around me dismounted as well.
Luckily, my confidence returned after about ten kilometres. I still went downhill comparatively slowly, but I didn't dismount and there weren't any dicey situations or even crashes. One of the reasons why participating in the mountain bike marathon in Willingen was worth it for me is that I rode sections where I probably would have dismounted if it had only been a training ride. As regards the technical difficulty of the course, I'd rate it beginner friendly and still not boring. I'd definitely recommend the Willingen mountain bike marathon to anyone wanting to do their first race! In Willingen I also realized that the atmosphere of a mountain bike race (even one with so many participants) is much more relaxed than that of a road race, and since slipstreaming isn't as beneficial as it is on the road, there are many more and larger gaps between riders and you can focus much more on yourself and don't have to keep an eye on the people riding in front of, next to or behind you all the time.
Apart from the self-doubt at the beginning, my back was the only thing causing me problems. During the weeks leading up to the race, I suffered from back pain quite often when mountain biking even though I hadn't changed anything, and the pain returned early on in the race. I therefore had to use easier gears and a much higher cadence while climbing than I'm used to in order to cope with the pain. I still managed to overtake people on the climbs and seemed to get better towards the end of the race.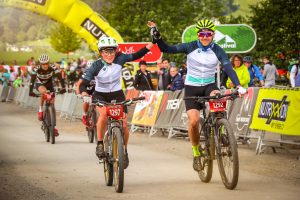 I was nevertheless very glad when I finally saw the finish line, as I was getting to a point where my nerves were pretty strained because I always have to concentrate really hard so I don't do anything stupid when I'm cycling. After crossing the finish line, I started to cry – partly because I was relieved and proud that I'd done it, partly because I was grateful to my boyfriend Niels who had once more waited for me so that we could cross the finish line together.
To sum it up: 53 km, about 1500 vertical metres, a great course, great weather, perfect signposting, nice volunteers and nice participants; a very exhausted, but happy me after 3 hours and 33 minutes. And the results revealed that I really did get better in the course of the race and improved my position from 37th at the first split time to 25th out of 66 women at the finish. That's quite encouraging 🙂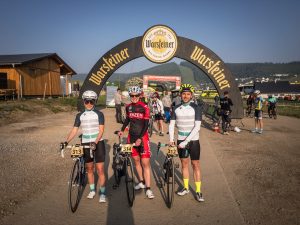 And since I already was in Willingen, I also took part in the road race, the Warsteiner Sauerland-Giro, the next day. My body was pretty sore, but the course was so beautiful that I could ignore the pain. Although the race didn't take place on closed roads, we barely saw any cars. I'd opted to ride two laps, 62 km with almost 1000 vertical metres in total. That was definitely enough for me that day, and I don't think I've ever used my first gear more often, either! As there weren't many participants (only 5 women in the 62-km race), I surprisingly came second behind my sister. Although I was of course happy about standing on the podium, the race would definitely have deserved more participants.
The icing on the cake: After the awards ceremony, I was also named "Fan of the Day" and received a prize for a picture I'd posted on Instagram the day before. Thanks again to the organizers for that. The weekend certainly couldn't have been any better!
Six weeks after I'm still so glad that I entered the mountain bike marathon. I could have kept training ten more years before entering my first proper mountain bike race, but even then I wouldn't have been sure that I could actually do it. And I know I'd probably have gone to the BIKE Festival, watched the races and regretted not having ridden myself. If there's something that you really want to do and it's not completely unrealistic that you can do it, the best thing is to just give it a go 🙂
Photos 1, 2, 3, 4, 5: © Marathon-Photos
Photos 7 and 8: © Niels Flemm