Just like in 2016 and 2017, Zwift and CANYON//SRAM organized the women's Zwift Academy together this year. The Zwift Academy is a virtual training camp for cyclists from all over the world, and all athletes who have a Zwift account can register for free. This year, it consisted of ten workouts, four social group rides and two races, which had to be completed over eight weeks. Participants could do the workouts whenever they wanted, and several group rides and races were offered at different times each day.
Zwift and CANYON//SRAM set up this training camp in 2016 to allow women from all over the world to get fitter together and to identify particularly talented cyclists. After the initial stage, ten promising amateur athletes advance to the semi-finals, and three of those advance to the finals where they have the chance to compete for a pro contract with CANYON//SRAM to represent the team at the most important road races in the world. Leah Thorvilson from the USA won in 2016, Tanja Erath from Germany won in 2017. Since the women's Academy was such a success, Zwift and Team Dimension Data also organized a men's Zwift Academy in 2017 and 2018.
When I heard about the Zwift Academy last year, I wanted to join because the thought of training in a more structured manner for a certain period of time seemed appealing. I certainly didn't think I'd be in contention for the pro contract, and I now assume that the minority of Zwifters join the Academy because they dream of becoming a pro. The majority simply want to challenge themselves and get fitter.
Participating in the programme last year, I also realized how great it is to be a part of this community. In the ZA Facebook Group, people answered questions, gave each other tips, cheered for each other, were happy for those who'd performed well or comforted those for whom things didn't go to plan, both on and off the bike. I never would have thought that there could be such camaraderie among people who'd never met each other in person.
This sense of community was the main reason why I registered for the Zwift Academy in 2018 too even though it started at the beginning of August this year when it was so warm in Germany that cycling outside was much more tempting. But with only 16 workouts/group rides/races to complete over eight weeks, there was enough time left for training outdoors. Among other things, I also cycled over 200 kilometres in a day for the first time (240 kilometres, to be precise ;)) and took part in the Rapha Women's 100 during those eight weeks.
If you're interested in the workouts we had to do or would like to do them yourselves, you'll find a list of them here: https://whatsonzwift.com/workouts/zwift-academy-2018. Let me just mention one interesting detail: Four of the workouts had free rides as their main interval, where you were supposed to give it your all for 25 seconds, 1 minute, 4 minutes and 10 minutes. The 1-minute interval was the hardest one for me. I faded so badly at the end that I took it too easy at the beginning of the 4- and 10-minute intervals and didn't feel as if I'd really given it my all afterwards. These free rides were definitely a valuable lesson in pacing, and I'll do them again in the future to see if I've made any progress.
The group rides were meant to be easy rides (between 1.5 and 2.5 watts/kilo) to recover from the tough workouts and races. They were mainly about staying together as a group and chatting. If you're as bad at multitasking as I am, it's quite a challenge not to get dropped or shoot past the whole group while typing.
Regarding the races, you could choose between TT, Circuit and Climb this year. I decided to do the 10-mile TT as my first race, thinking "it'll hurt, but at least it'll be over soon." While I was on my bike, I asked myself what I'd been thinking – it took me 26:04, so the TT was like an FTP test, just a little bit longer, and if you've ever done an FTP test, you know that there are more fun things to do. That's why I chose the Climb as my second race. The day it took place, it was almost 30 °C outside, however (and also in our apartment, which is on the top floor). My heart rate kept rising and rising the whole time, and the thought of just taking it easy crossed my mind several times. If I'd taken it easy, it'd have taken me even longer, though, so I gave it all I had in me that day (which wasn't a lot).
Pushing yourself to your limits is always a great feeling, though, and I'm super happy that I completed the Zwift Academy for the second year in a row. I'm very grateful to the organizers for giving Zwifters the opportunity to participate in this training programme and be a part of this amazing community.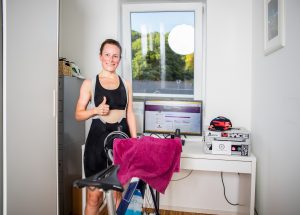 Other riders did a lot better than me and pushed some impressive watts. 10 semi-finalists were chosen among the 1,140 graduates. They had to complete more indoor workouts, but also outdoor rides, and this week the finalists were announced (finally!): Mary Wilkinson, Ella Harris and Ione Johnson. (You can learn more about the three women and the other semi-finalists here: https://zwift.com/en/news/8732-meet-the-10-semi-finalists-of-canyon-sram-racing-zwift-academy-2018) The Canyon//SRAM training camp taking place in Spain in December will decide who will be offered the pro contract for 2019. Can't wait to see who of these strong athletes it'll be!